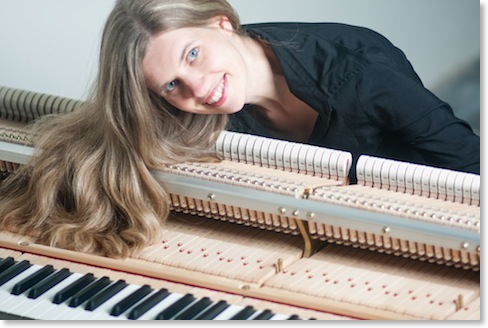 photo: Janey van Ierland

Sandra Mol studied with the Norwegian pianist Håkon Austbö at the Conservatory in Utrecht where she graduated in 1992. She made her debut with Jeroen van Veen in a performance of Canto Ostinato during Lek Art (Culemborg). The concert was recorded live and the CD has sold in more than 40 countries worldwide. As a result, many concerts and Cds followed. Sandra is very dedicated to the music of Ten Holt, but nowadays also plays other kinds of music, ranging from Carmina Burana, The Planets, Rhapsody in Blue, to Tangos and Tubular Bells for four pianos. She played premiere performances of several pieces written by Dutch composers like J. Andriessen (in Russia) and Ten Holt (in Canada). Furthermore, she forms an Art group with two friends, with whom she produces theatre concerts based on different themes, for example a "Composers Life" or the "History Of The Piano".
Sandra gave many concerts and recitals from Miami to Russian Novosibirsk. She takes part in many projects in Holland as well as abroad. She recorded 14 CDs on various labels. Several concerts and projects have been broadcast on radio, television and the Internet. In addition Sandra is a well known, dedicated piano teacher as well.
Sandra Mol is a co-founder of the Lek Art Foundation and the Simeon ten Holt Foundation, and is active as secretary for the latter.