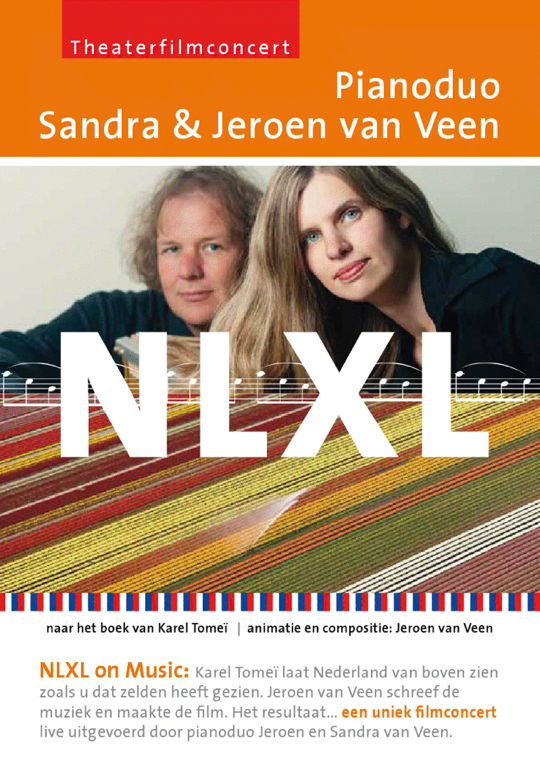 NLXL

Images: Karel Tomeï
Composition: Jeroen van Veen
Musicians: Sandra & Jeroen van Veen, piano and keys
In an ever faster changing society, time flies past us. Often, we only see the landscape in one way – if we even notice it at all…
Photographer Karel Tomeï's art book NLXL shows aerial photographs that depict in a unique manner the traces of both mankind and nature in the Dutch landscape. Inspired by the rhythm of these beautiful photographs, composer Jeroen van Veen translated it into a composition that supports and reinforces the images. Music by Jeroen van Veen is connected to the minimalism of style icons such as Philip Glass, Michael Nyman and Simeon ten Holt.
Van Veen: "I see a comparison in the repetitive music with the way our society is built. When you see how trees are planted around our road network, how we build, how things/items are produced – everything is in series. But these series are never exactly the same, the repetition never becomes boring."
In a sublime motion-picture experience, the images are shown on the big screen, with the music and soundscapes composed by Van Veen performed live by the international piano duo Sandra & Jeroen van Veen. NLXL is an unprecedented experience for both ear and eye. One reviewer has already named the art 'The Dutch version of Koyaanisqatsi'.
Come to the theatre to be swept away through the beautiful Netherlands as you have never seen and heard it before!
Duration: 79 minutes without interval
Period: September 2011 through to May 2012
Category: theatre concert, film with live music and multi-channel soundtrack